Friday, April 30, 2021 -

4:00pm

to

5:30pm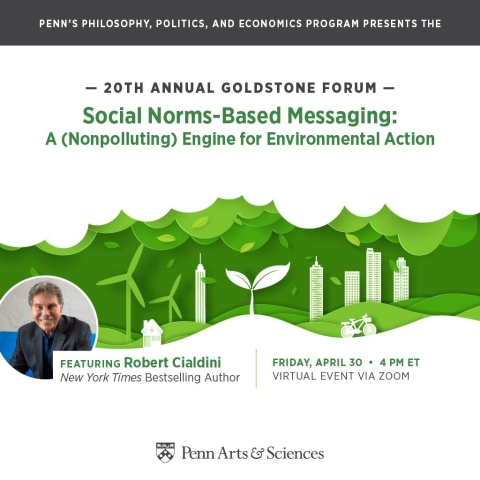 20th Annual Goldstone Forum
Social Norms-Based Messaging: A (Nonpolluting) Engine for Environmental Action
A talk from Robert Cialdini, New York Times Best-Selling Author of Influence and Pre-Suasion
Social norms are remarkably powerful in directing human action. Studies have shown that communications that use social norms-based appeals for pro-environmental behavior are superior to those that use traditional appeals, but this motivating power is often used incorrectly.
About the Speaker
Robert Cialdini, Ph.D., has spent his career researching what leads people to say "Yes." The developer of the Six Principles of Persuasion, he is known globally as the foundational expert in the science of influence and how to apply it ethically in business. His books, including Influence and Pre-Suasion, have sold more than five million copies in 41 different languages.
Cialdini has been elected to the National Academy of Sciences and the American Academy of Arts and Sciences. He is Regents' Professor Emeritus of Psychology and Marketing at Arizona State University, and President and CEO of INFLUENCE AT WORK.