Monday, March 12, 2018 - 2:00pm
B4 Meyerson Hall
210 South 34th St.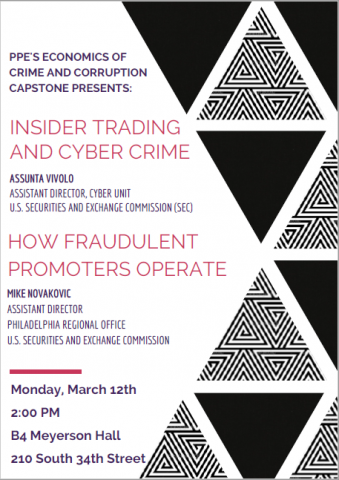 PPE's Economics of Crime and Corruption Capstone Presents:
Insider Trading and Cyber Crime
Vivolo will discuss Insider Trading and Cyber Crime, including hacking for material, nonpublic information (which is the intersection of cyber crime and insider trading)

Bio:  Assunta Vivolo is an Assistant Director in the Divisions of Enforcement's Cyber Unit in the Philadelphia office of the U.S. Securities and Exchange Commission.  In this role, Ms. Vivolo has investigated or litigated a number of significant matters including large international insider trading schemes, cyber schemes, offering frauds, and other securities law violations.  She was previously senior counsel in Market Abuse Unit, and also served as counsel to the Director of Enforcement.  Prior to joining the Commission, Ms. Vivolo was a securities and white collar litigation attorney at Schulte Roth & Zabel LLP in New York.  She graduated from the University of Pennsylvania with a bachelor's degree in Economics and History and received a law degree from Fordham University. 

How Fraudulent Promoters Operate
Novakovic will discuss offering frauds:  how the fraudulent promoters operate, who they were, their motivations and the damage they caused, including some real-life cases investigated in the Philadelphia office
Bio: Mike Novakovic is the Assistant Director at the Philadelphia Regional Office of the SEC