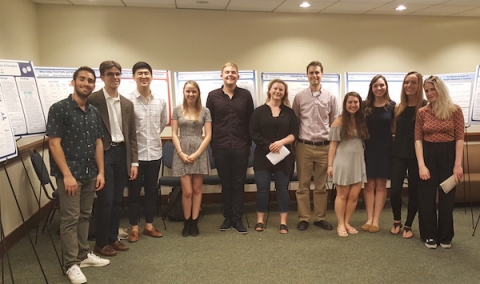 Before Research
Students wanting to do research need:
(1) Background knowledge
Some prior basic knowledge of the field they want to do research in. Doing research should be at least as challenging as taking a junior or senior year course. This typically means you have taken a couple of classes in the area, enough to form an educated hypothesis that you wish to investigate.
(2) A willing faculty supervisor to guide the research
This could be someone who taught a class you have taken in the past or someone you happen to know in some other way (perhaps you worked for that person or have been directed to that person by some other faculty member). CURF recently added a new Research Directory with a database of Penn Professors who have expressed an interested in working with students and indicated whether they would be willing to oversee independent studies.
PPE does not have much leeway in helping you with step 2, except to remind you that we have a set of young scholars in residence with a diverse group of interests (see especially our Post-Doctoral scholars and Research Fellowsl). Many of them teach PPE advanced interdisciplinary seminars for our students. This is a resource that you are strongly encouraged to use, especially if you have trouble finding a member of the standing faculty to serve as advisor: young scholars may be more aware of the cutting edges of the discipline, and be able to give you more time.
(3) The passion and time to make this happen.
Tips: 
1. Visit Penn's Center for Undergraduate Research Page for good advice and a list of funding opportunities and fellowships. If you're a sophomore, be mindful of opportunities like the Penn Undergraduate Research Mentorship Program.
2. If you haven't already, consider taking one of the many research methods classes across the University such as: COMM 210, COMM 321, CPLN 512, CRIM 402, CRIM 410, CRIM 535, MKTG 212, PSCI 338, SOCI 100, SOCI 221, PPE 472 (Networks), PPE 476 (Thinking with Models). Typically, one of these will count as one of your thematic concentration courses.
Administrative Steps for Starting
Once you have found a willing supervisor, complete the form below and submit it here, where it will be reviewed by PPE's Associate Director. Upon approval, you will be issued a permit. The research needs to be related to your theme if you are planning to use it for that purpose. If you are doing it for an elective credit or simply to fulfill honors requirements, it needs to at least be related to PPE (even if not your theme) for us to give you a permit (see next paragraph).
We will then issue a permit to the student if necessary. Students are required to be formally enrolled in a class, such as PPE 401: Independent Study or PPE 498: Directed Honors Thesis or an independent study class in the supervisor's department*.
If you are doing the research before your senior year or you cannot reasonably expect to attain a 3.6 GPA in the major by the time you graduate, we will issue you a permit for PPE 401: Independent Study. If you are a senior and can expect to graduate with a GPA of 3.6 or above in the major, you are eligible to graduate with honors in PPE and in that case we will issue you a permit for PPE 498 (Directed Honors Thesis). Note that you need to be in the class before Add period ends for the semester.
Note: *Sometimes, faculty in different departments (such as PSCI) would prefer that you enroll for an independent study in their department. Even if this is the case, please send the form to ppemajor@sas.upenn.edu.
Submit completed and signed form here. 
The Research Process
The exact process varies from supervisor to supervisor, but usually follows a common structure:
Discussion of topic first, and the faculty supervisor guiding the student into doing something feasible.
A reading list suggested for the student if appropriate.
Meeting(s) to discuss what will be written.
A draft, with ample time to do corrections if needed - when this is due varies from supervisor to supervisor.
Final paper, with grading deadlines as in any other class. 
PPE leaves the nature of the research paper to be jointly determined by the supervisor and student. There are no minimal number of pages - an Economics thesis might be shorter, and a Political Science thesis longer. Generally speaking, the thesis should be a substantial body of intellectual work that may be expected from an upperclassman student doing research.
Deadlines and Other Formalities
Since the research is being done in a credit bearing class, the instructor will assign a grade. This grade needs to be turned in by the day grades are due for all other classes for the respective semester (Jan 1 for fall, 3 days after end of exams in spring, and 3 days after end of classes in the respective summer sessions). Note that this means that you must discuss with your advisor how early the last draft of the paper needs to be turned in to him or her, so that the paper may be comfortably evaluated in time to meet the grading deadlines. Honors thesis work may not be completed after graduation.
Finally the process is not complete until we receive an electronic copy of the completed work at ppemajor@sas.upenn.edu and a bound hardcopy in the PPE office, 311 Cohen.
Campus Copy Center at 3907 Walnut has cheap, quality thesis binding options.